Tables, Chairs, Tents, Staging, Fencing, Tablecloths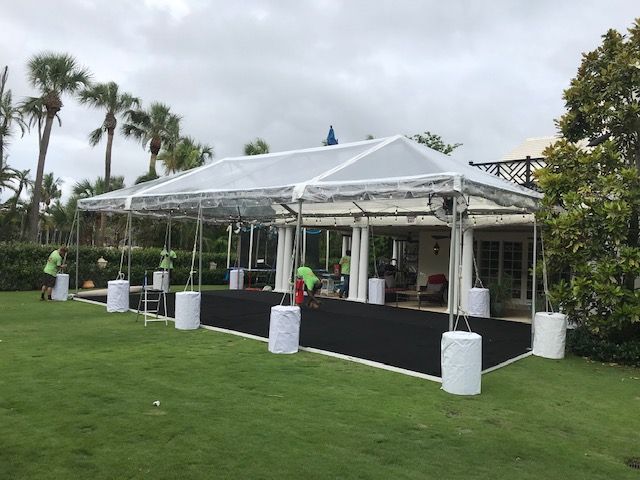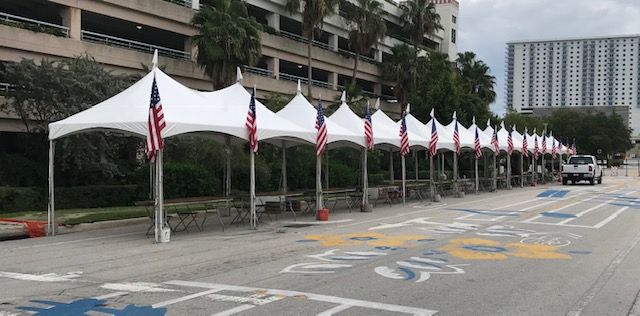 Banquet Table
Available Sizes:
4' - 4-6
6' - 6-8
8' - 8-10
4' X 8' FARM TABLE
Round Table
Available Sizes:
30" - 2-4
36" - 2-4
48" - 4-6
60" - 6-8
72" - 8-10
High Top Table
High Tops are 42" tall and come in the following sizes:
24" Square
30" Round
36" Round
36" Square
CHAIRS
Which do you prefer?
Padded garden chair
The "go-to" chair for upscale outdoor events, available in white, black, and mahogany.
plastic folding chair
The budget-friendly outdoor event chair, available in white or black.
chiavari chair
Available in too many colors to list! Please call us for more info.
bar stool
Available in natural wood.
adirondack chair
Colors change with the season, give us a call for more info!
STAGING
Our Steel BilJax staging comes in 2' increments. Black skirting included in price.
All Staging comes in Light Gray
Common Sizes/Band Size:
12' X 16' X 15"/6 piece band
16' X 24' X 24"/8 piece band
20' X 24' X 30"/10 piece band
Heights:
6"
15"
18"
24"
30"
60"
Railing
Mandatory on any stage higher than 30", please ask for more information!
TABLECLOTHS
All of our Tablecloths are 100% polyester and are flame retardant!
tablecloth
All of our solid color tablecloth colors can be viewed at:
napkin
20" X 20" available in most tablecloth colors.
Polyester.
spandex
For a more modern, classy look.
Or to keep it on the table in the wind?
TENTING
We literally have a tent for every event, from Hot Pink to White to Clear, we have you covered!
There are three types of tent to choose from, High Peaks, Frame Tents, and ClearTops.
High Peak
Available in:
10x10 (multiple colors)
10x20
15x15
20x20
20x30
Frame tent
Available in:
10x10 and longer
15x15 and longer
20x20 and longer
30x30 and longer (Fuchsia available)
40x40 and longer
ClearTop Tent
Available in:
10x10 and longer
20x20 and longer
30x30 and longer
40x40 and longer
PIPE & DRAPE
Pipe & Drape comes in a variety of colors and styles, for our expo booths we offer sizes from 6' X 6' to 12' X 12' and Banjo drapes in Royal Blue, Black, Off-White, Red, and Hunter Green.
Our event draping is available in heights from 3'-14' in White Velour, Black Velour, and our Banjo patterns, 6' sections.
Expo booths
We work hand in hand with local venues to make set-up and tear down a breeze! We also carry enough Pipe & Drape to do 150+ booth expos!
Expo booth
Typical sizes are:
8' X 8' (8' Back, 3' Sides)
10' X 10' (8' Back, 3' Sides)
Velour draping
Velour draping is available in black or white in the following heights:
8'
10'
12'
14'
MISCELLANEOUS
There are a lot of items that do not fit in to a proper category, these are just a few. Please feel free to call/email us as we might have what you're looking for, it's just not on the site yet!
8' Benches
If setting up hundreds of chairs isn't your thing, try out these rental benches instead!
Available in Natural Wood or Mahogany
Picket fence
3' Tall and 10' Long Sections
lattice panel
4' Tall and 8' Long
or
8' Tall and 4' Long
pATIO HEATER
48,000 BTUs of heat.
Price includes 1 20lbs propane tank.
Electric proofer
Cozoc 120V Electric Proofing Cabinet
Holds 18 18'" X 26" sheet pans
Subfloors
Available in black, white, black & white, or mahogany.